This post is part of our Reader Request Month series
Relationships require work. Despite what we envision our ideal relationship or marriage to look like and feel like, God's will for relationships is different than our desire for comfort 24/7. There will be times when confrontation, correction and forgiveness is needed, and from what I heard about marriage, it's needed often. So on this single side of looking at godly relationships and marriage, we may have a biased view on how things should go. We enter relationships with the intent to marry and when the inevitable challenges come, we are faced with the realistic choices to stay or walk away.
This leads to our Reader Request topic for this week with this good question: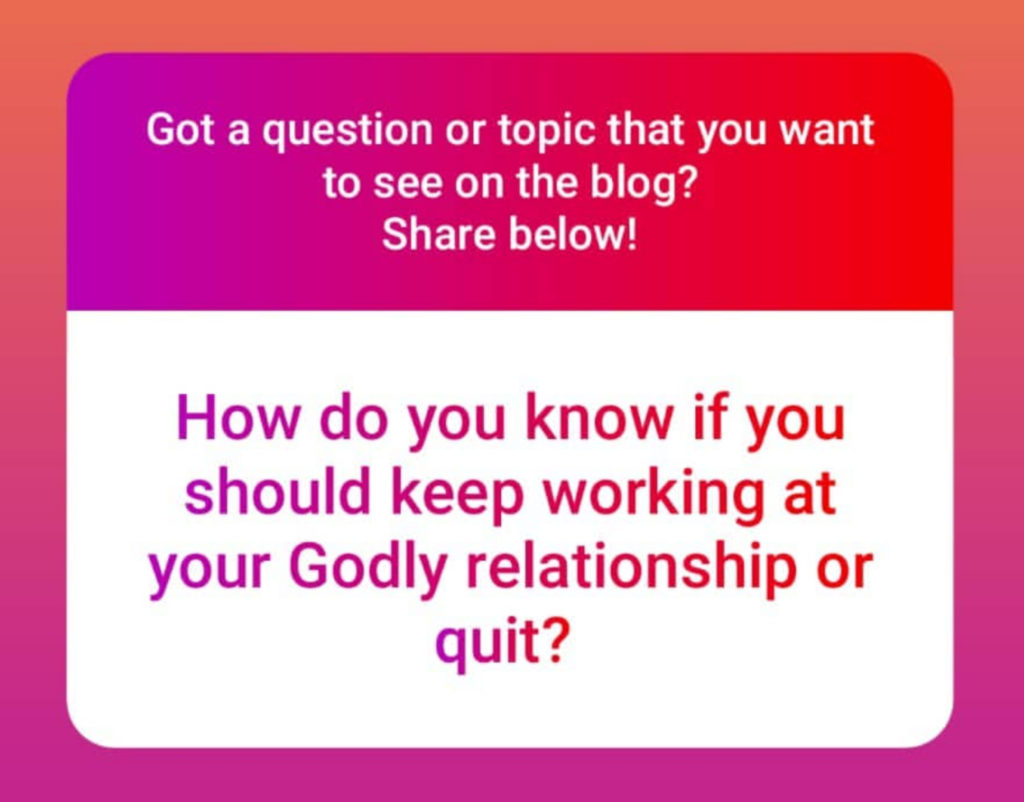 I'm glad the reader asked about godly relationships because an unequally yoked (spiritually/faith beliefs) relationship has uncommon ground from the start. Godly relationships are relationships with Christ at the center, a relationship that honors God's standards. That means that you are growing closer to God as you get more acquainted with your partner, and you are not getting in the way of each other's connection to the Father. Because I don't have more context with this person's question, I'll answer with what I know plus add some thoughts:
Ask yourself if this is a test for your relationship to see how you both respond to conflict? Is there something that came up that leads to conflict in your communication? Communication is one big practical and spiritual key to successful relationships. Do you feel like you can be totally honest with your partner, and if not, why?
Take a look at what is the source of stress or discomfort in your relationship. Even Christian singles can feel hesitant to making commitment in relationships, is this what you're feeling that's leading to this question? Is there a feeling that you're settling or are unfulfilled in this relationship? Your partner could be doing a lot of things right, but you may have an uncertain feeling about your future together that you can't shake. Sometimes we enter relationships thinking that God gave us the green light when we were really following our emotions. I've been there! Don't feel condemned about this. Seek God for what you need to do next.
Handling relationship issues with grace. You know within you if you want to fight for this relationship. The enemy will try a God ordained relationship and marriage before the couple says "I do" and will try after. Do you want to keep this relationship? If so, have you done all that you could to make this relationship work? This includes fasting, praying, seeking counsel, resolving any communication conflict with your partner, etc. You also know what your deal breakers are. You don't have to compromise your standards or core values to "fight" for your relationship with someone who may not be for you. Use discernment and evaluate what action steps you need to take.
When it is necessary to walk away… Breakups are hard no matter what. It's not easy but as mature believers we understand that God is sovereign and full of grace. If this relationship is not going to go any further than where it is, you owe it to yourself and your partner to be obedient to God in this. There were times when I wanted to stay in dating situations or relationships longer than God said to, but it wasn't benefiting me to stay in disobedience. I asked God for a way of escape, and He made a way. It may not be easy, but if you know in your spirit that this is not it, don't force the relationship to continue because of feelings or familiarity.
Having God's peace vs. our confusion
Get real still and quiet and ask the Lord if you should move forward with this particular person that you are with. If you have the peace of God about this, then seek God on what it is you need to do to make it work. That peace (in this context) is an assurance that even if things are hard right now, you know that this person is someone God has put in your life for marriage purposes.
If you feel some uneasiness about being with them, confused, or not hopeful for the future at all, then ask God to lead you on what to do next in terms of walking away from the relationship. God is not the author of confusion, so seek Him for confirmation on the purpose of your connection with your partner will help you understand what it is you should do. Pastor Toure' Roberts said in his now well-known sermon about soulmates: "When you know, you know; and when you don't know, that's not it."
As I have written before, not all godly relationships/courtships will lead to marriage. You must have the resolve that being in God's will is more important than any other relationship, and to find contentment in that truth. Knowing this before, during and after entering a relationship keeps your mind in proper perspective in spite of the initial feelings we have throughout the process.
For further reading, check out this post on building godly relationships/courtship via The Odyssey Online
Do you know when to stay or leave a dating relationship? Share your take below!
Read more: blissforsingles.com